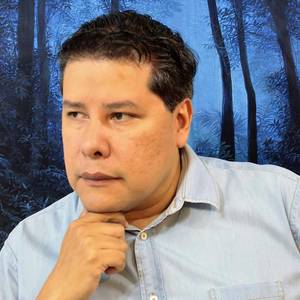 Marco Valencia ( San Salvador, El Salvador 1973-)
Ingeniero químico graduado (Universidad Centroamericana UCA San Salvador El Salvador 1998), Marco decidió ser artista autodidacta a tiempo completo. Inició en el dibujo y luego en la pintura hacia mediados de los años noventa, su estilo inicial fué el costumbrismo o paisaje de pueblos de su país El Salvador. Luego desarrolló una motivación a pintar paisajes naturales en gran formato con una tendencia al hiperrealismo. Esta tendencia se ha mantenido desde la fecha y ha creado otros estilos paralelos: las series de bosques azules y los paisajes pintados con un estilo impresionista.
Al respecto el Artista opina que "es importante describir el interior de un artista, la obra también refleja los paisajes interiores del artista, no solamente un paisaje externo" refiriéndose al origen de sus temas, los cuales son en su mayor parte temas imaginarios.
Su obra ha sido exhibida en importantes galerías y colecciones de arte públicas y privadas desde 1997.
La obra "hojas en el Río" de Marco Valencia pertenece desde 2010 a la Colección Nacional de Arte de la República de El Salvador
———————————————————————————————————–
Chemical engineer (Universidad Centroamericana UCA San Salvador El Salvador 1998), Marco decided to become a full-time self taught artist. He started drawing and then painting in the mid-nineties, his initial style was small towns and villages of his country El Salvador. Then he developed a motivation to paint natural landscapes in large format with a tendency to hyperrealism. This trend has been maintained since the date and has created other parallel styles: the series of blue forests and the landscapes painted with an impressionist style.
In this regard the artist believes that "it is important to describe the interior of an artist, the work also reflects the interior landscapes of the artist, not just an external landscape" referring to the origin of their themes, which are mostly imaginary themes.
His work has been exhibited in important galleries and public and private art collections since 1997.
The work "Hojas en el Rio" of Marco Valencia, belongs since 2010 to the National Collection of Art of the Republic of El Salvador.
CURRICULUM – RESUME
VERSION SIMPLE – BILINGUE ESPAÑOL / INGLES US
MARCOVALENCIARESUMEBILINGUAL2019
Last updated June 2019- Ultima actualización Junio 2019
EXTENSIVE RESUME WITH DETAILED INFORMATION PDF :
MARCOVALENCIA ENGLISH RESUME 2019 EXTENDED VERSION
Last update July 2019
RESUME DETALLADO CON INFORMACION ADICIONAL DE EXPOSICIONES – INGLES PDF
MARCOVALENCIA ENGLISH RESUME 2019 EXTENDED VERSION
Ultima actualización Julio 2019