Acerca – About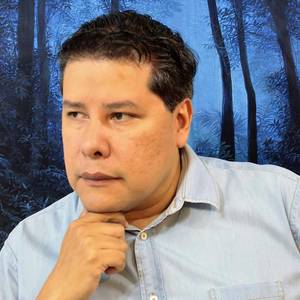 Marco Valencia ( San Salvador, El Salvador 1973-)
Marco se define a sí mismo como un Artista autodidacta. Aunque es ingeniero químico graduado (Universidad Centroamericana UCA San Salvador El Salvador 1998), Marco decide ser artista a tiempo completo.  Inicia en el dibujo y luego en la pintura hacia mediados de los años noventa, su estilo inicial es el costumbrismo o paisaje de pueblos de su país El Salvador. Luego desarrolla una motivación a pintar paisajes naturales en gran formato con una tendencia al hiperrealismo. Esta tendencia se ha mantenido desde la fecha y ha creado otros estilos paralelos: las series de bosques azules y los paisajes pintados con un estilo impresionista.
Al respecto el Artista opina que "es importante describir el interior de un artista, la obra también refleja los paisajes interiores del artista, no solamente un paisaje externo" refiriéndose al origen de sus temas, los cuales son en su mayor parte temas imaginarios.
Su obra ha sido exhibida en importantes galerías y colecciones de arte públicas y privadas desde 1997.
La obra "hojas en el Río" de Marco Valencia pertenece desde 2010 a la Colección Nacional de Arte de la República de El Salvador
———————————————————————————————————–
Marco defines himself as a self-taught artist. Although he is a graduate chemical engineer (Universidad Centroamericana UCA San Salvador El Salvador 1998), Marco decides to become a full-time artist. He starts drawing and then painting in the mid-nineties, his initial style is the landscape of small towns and villages of his country El Salvador. Then he develops a motivation to paint natural landscapes in large format with a tendency to hyperrealism. This trend has been maintained since the date and has created other parallel styles: the series of blue forests and the landscapes painted with an impressionist style.
In this regard the artist believes that "it is important to describe the interior of an artist, the work also reflects the interior landscapes of the artist, not just an external landscape" referring to the origin of their themes, which are mostly imaginary themes.
His work has been exhibited in important galleries and public and private art collections since 1997.
The work "Hojas en el Rio" of Marco Valencia, belongs since 2010 to the National Collection of Art of the Republic of El Salvador.
CURRICULUM – RESUME
ACTUALIZADO Agosto 22 2018 – UPDATED  August 22th 2018
formato PDF: Descargar aquí (versión bilingue español. english):
MARCO VALENCIA RESUME BILINGUAL 2018
EDUCACION – EDUCATION
1999
Ing. Quimico, Universidad Centroamericana José Simeón Cañas UCA, San Salvador El Salvador
Chemical Engineering Degree, Universidad Centroamericana, José Simeón Cañas UCA, El Salvador
EXHIBICIONES – EXHIBITIONS  +INDIVIDUALES / SOLO EXHIBITIONS
2018
2017
2016
2013
Salt Fine Art Gallery Laguna Beach, California
Art Auction Salt Fine Art Gallery, Laguna Beach, California
Ana Lucia Gomez Gallery, Guatemala
2012
Subasta / Art Auction JUANNIO, Guatemala City, Guatemala
Subasta / Art Auction ARTGALA, Guatemala City, Guatemala
Subasta / Art Auction Salt Fine Art Gallery, Laguna Beach, California
2011
Exhibición – Subasta  VALOARTE / VALOARTE Art Exhibition, San José Costa Rica
Subasta /Art Auction Saltfineart, Laguna Beach, California
Subasta /Art Auction JUANNIO, Guatemala City, Guatemala
Subasta /Art Auction ARTGALA, Guatemala City, Guatemala
2010
Subasta /Art Auction JUANNIO, Guatemala City, Guatemala
Subasta /Art Auction Saltfineart, Laguna Beach, California
2009
"Reflections on Latin America", Beach Art Gallery, Laguna Beach, California
Colectiva – Sollective – Saltfineart, Laguna Beach, California
Subasta / Auction 09, Museum of Latin American Art, Long Beach, California
+REALISMO LATINO AMERICANO+, Pure Laguna Beach Art Gallery, Laguna Beach, California
2008
SUMARTE, Museo de Arte Moderno, San Salvador, El Salvador
Solidarios con el Arte, Museo Forma, San Salvador, El Salvador
Exposición Colectiva de Arte, Consulado de El Salvador, New York
Diálogos cotidianos, Embajada de México, San Salvador, El Salvador
En Honor al Paisaje+, Sala Nacional de Exposiciones Salarrué, San Salvador, El Salvador
2007
SUMARTE, Museo de Arte Moderno, San Salvador, El Salvador
2006
SUMARTE, Museo de Arte Moderno, San Salvador, El Salvador
2005
ArteAméricas 2005, Merry Lynch Bank, Miami, Florida
Carmel Art Festival, Canapo Fine Art Gallery, California
2004
ArteAméricas´2004, Merryl Lynch Bank, Miami, Florida
De Bosques y Mares, Galeria 123, San Salvador, El Salvador
2002
Subasta Benéfica, Casa de Subastas Durán, Madrid Spain
Recuerdos de un Futuro Atardecer*, Galería 123, San Salvador, El Salvador
2001
Subasta de Arte Latinoamericano Online, Sotheby´s, New York
Bosques y Bambúes*, Jorge Sori Fine Art, Miami, Florida
2000
Sueño de un paisaje*, Praxis Arte Internacional, Mexico DF, Mexico
Vientos Cardinales, Centro Cultural Embajada de Expaña, San Salvador, El Salvador
Primer Salón de Invierno 50 Años de Artes Plásticas en El Salvador (ADAPES),
Sala Nacional de Exposiciones, San Salvador, El Salvador
1999
XII Muestra de Pintura y Escultura Latinoamericana, Galería 123, San Salvador, El Salvador
Arte de América Latina, Wally Findlay Galleries, New York
Esencia del Paisaje II*, Galería 123, San Salvador, El Salvador
1998
Esencia del Paisaje*, Galería 123, San Salvador, El Salvador
1997
XII Muestra de Pintura y Escultura Latinoamericana, Galería 123, San Salvador, El Salvador
1996
Fusión, Patronatro Pro Patrimonio Cultural, San Salvador, El Salvador
X Palmarés Diplomat Art Awards, Patronatro Pro Patrimonio Cultural, San Salvador, El Salvador
1995
Pintura y Figura Humana: Autodidactas, Patronatro Pro Patrimonio Cultural, San Salvador, El Salvador
RECONOCIMIENTOS – AWARDS
2008

Reconocimiento a la trayectoria, Congreso de El Salvador – National Recognition for Artistic Contribution, Congress of El Salvador
2003
COLECCIONES PERMANENTES  – PERMANENT COLLECTIONS
El Salvador – El Salvador

Museo de Arte de El Salvador MARTE
National Museum of Art MARTE
Colección Oficinas administrativas
Main Offices Art Collection
Obra-Artwork:
"Ninfas en la Laguna"
Acrilico s/lino Acrylic / linen 1.00 x 1.30 m, 1998

Colección Nacional de Pintura de El Salvador, National Art Collection
Sala Nacional de Exposiciones Salarrué San Salvador El Salvador

Oficinas administrativas AVIANCA / AVIANCA Headquarters Main Lobby Artwork, San Salvador, El Salvador 2009-2016
Obra Artwork "El Vuelo"
Acrílico s/lino  Acrylic / linen
1.30 x 1.00 m / 51 x 39.4
Colecciones de Arte públicas en el Extranjero – Outside El Salvador public art collections

Casa Real Española – Spain Royal Family Art Collection
Obra -Artwork : Helechos en el Bosque
Acrilico s/tela Acrylic /canvas
1.20 x 0.60 m / 47 x 23.6 plg / in